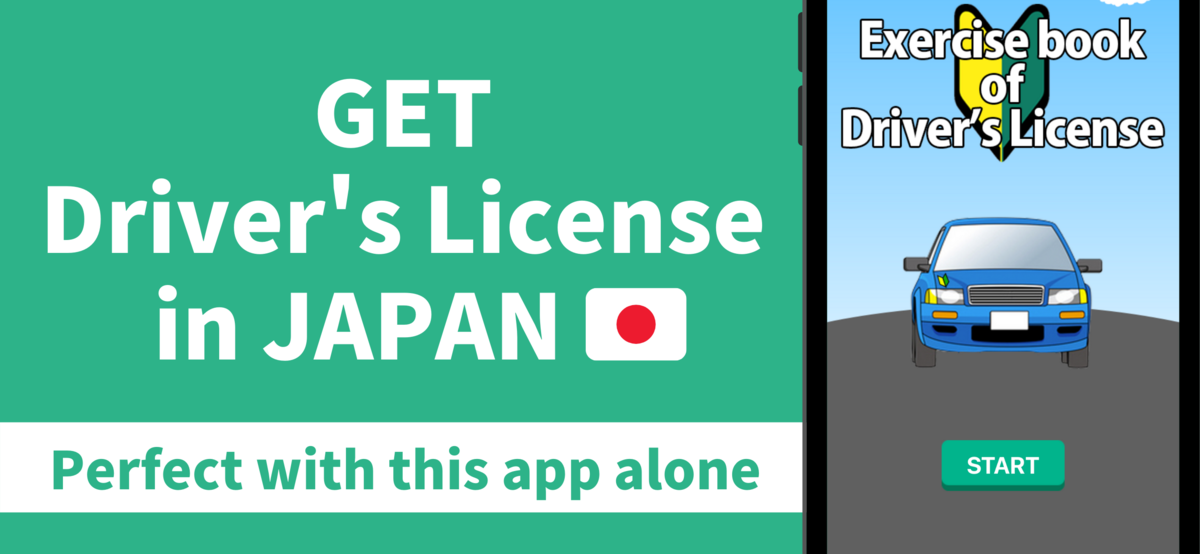 開発情報
アプリ名:普通免許問題集【英語版】
アプリ名(英語):Exercise of Driver's License

開発言語:Swift (iOS)

サーバー:Firebase
インフラ:Firebase
公開日:2016-02-10
最新アップデート:2021-08-27

Update!!
ストアページ
アプリ説明  
`"I wanna get the driver's license in Japan!!"
"But there's no past-year questions in English!!"
Come on!! That's not the problem you've to worry about.
Here's a Good News for you!!
No.1 of Driver's License Studying applications,
Exercise book of Driver's License in English version,
which has been expected, is now available!!
◉ Why the English version be published!?
Foreigners who live in Japan, may take Driver's License examination in English.
However; Japanese representation is difficult to figure out.
Also, there aren't English exercise books in book stores.
It's Okay. That won't be the perplexity bothering you with this application!!
◉ How to work
-After pressing START, answer if it is "○" or "×".
-Answering over 90% correct will be judged to PASS.
-Share to your friends.
◉ Capabilities
-QUICK START:
Immediately! 10 questions are chose from exam questions.
-MARK:
Focal! Review and emphasize upon only the mistaken parts.
-GRAPHIC:
Multiple! Do not forget to practice graphic questions.
-IMITATE:
Challenge 50 questions as realistic examination.
-EXPLANATION:
Impress! Comprehend more due to particular descriptions.
◉ Features
-Take your ease to practice in any free time!!
-Free of expense!!(Pay for only extra contents)
-Short practice for 10 questions in 1 minute!!
-Never be tired of learning.
-Make good use of time and pass the exam!!
-Particular descriptions make you understand!!
-Check the confusing questions before exam!!
-Review the knowledge of traffic rules in Japan!!
-The best and useful studying application for Driver's license exam!!